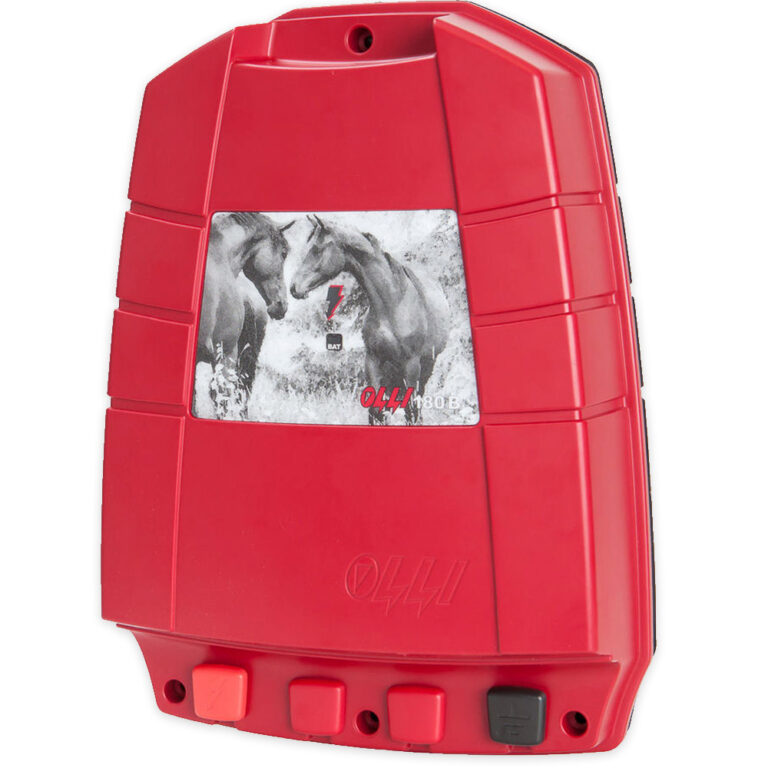 Olli 180B battery energiser
Olli 180B – basic battery energiser, fixed installation
Olli 180B is a powerful 12V battery-operated, wall or post-mounted basic energiser suitable for fencing a wide variety of animals. Maximum output energy 1.4J. Owing to the electronics used in the energiser, the power consumption is low. The deep discharge protection of the 180B protects the battery and extends its service life. Low battery warning light.
Tip! We recommend using leisure batteries as the energiser's power source instead of vehicle starter batteries. Read more about using different types of batteries with energisers >
Tip! Inadequate earthing is the most common cause of poor fence efficiency. By correct and adequate installation of earthing from the very beginning, you can avoid a lot of problems related to poor fence efficiency. Read more about functional implementation of earthing >
Peace of mind for years – Olli energiser service
All Olli energisers come with a 3-year warranty that also covers damages caused by lightning. Olli energisers made in Finland are serviced by the service outlet of our plant and by authorised Olli Service Partners throughout Finland. We guarantee availability of spare parts for many years to come, for discontinued models as well.
Mains energisers | Battery energisers | Solar panel energisers
Product information
Voltage at 500 Ohm load
3,200V
Maximum output energy
1.4J
Indicative number of earthing rods
1-2 pcs.
Maximum theoretical fence length
80km
Maximum theoretical fence length (light vegetation)
15km
Maximum theoretical fence length (moderate vegetation)
4km
Built-in lightning protection
Yes
Warranty, incl. lightning damage
3 years
Olli product code
6000180
Solar panel available as an accessory
No
You may also be interested in these products