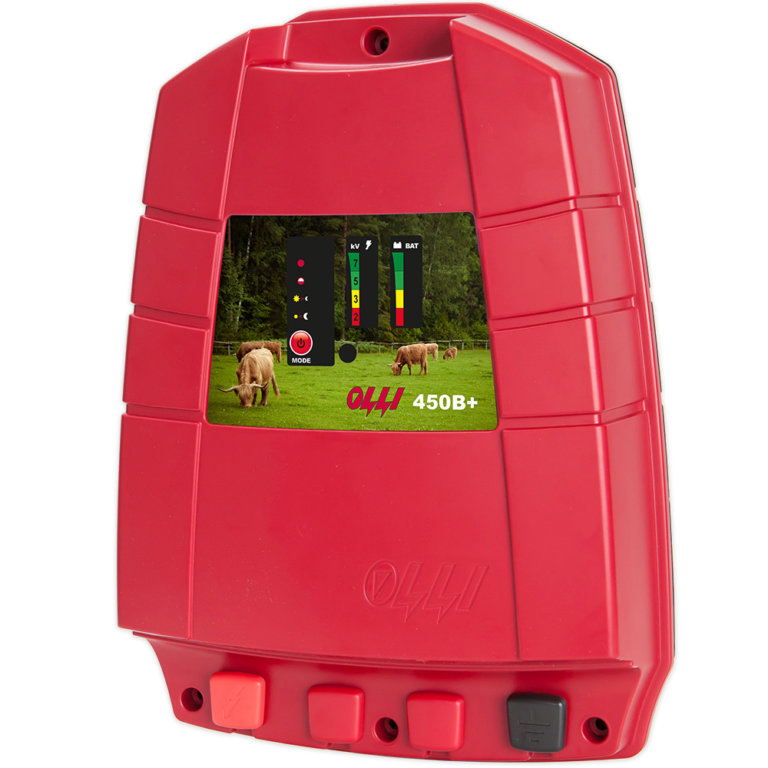 The most powerful Olli battery energiser with 3,0J output energy
NEW!
Olli 450B+ with its 3,0J output energy is the most powerful Olli 12V battery operated energiser of all time.
This strong and wonderfully versatile, wall or post-mounted top model is suitable for longer fences or when a stronger output energy is required.
Olli 450B+ features include monitoring of fence condition, battery voltage indication, selectable battery deep discharge protection, and four power saving modes:
• full power
• half power
• day and night active modes controlled by light level
Olli 20 W solar panel kit available as an accessory.
The versatile functions of 450B+ facilitate keeping the battery properly charged, thereby preventing potential damages caused by deep discharge. The charging control in solar panel operation also prevents overcharging the battery under any circumstances. These features prolong the service life of the battery. Fence voltage measurement reveals possible problems with the fence condition. The power supply can be cut with the power OFF button (removing the battery is not required for cutting the power).
Available worldwide during spring 2021.
Tip! We recommend using leisure batteries as the energiser's power source instead of vehicle starter batteries. Read more about using different types of batteries with energisers >
Tip! Inadequate earthing is the most common cause of poor fence efficiency. By correct and adequate installation of earthing from the very beginning, you can avoid a lot of problems related to poor fence efficiency. Read more about functional implementation of earthing >
Peace of mind for years – Olli energiser service
All Olli energisers come with a 3-year warranty that also covers damages caused by lightning. Olli energisers made in Finland are serviced by the service outlet of our plant and by authorised Olli Service Partners throughout Finland. We guarantee availability of spare parts for many years to come, for discontinued models as well.
Mains energisers | Battery energisers | Solar panel energisers
Product information
Voltage at 500 Ohm load
4650V
Maximum output energy
3,0J
Power consumption
160–310mA
Indicative number of earthing rods
1–3 pcs.
Maximum theoretical fence length
190km
Maximum theoretical fence length (light vegetation)
23km
Maximum theoretical fence length (moderate vegetation)
8km
Built-in lightning protection
Yes
Warranty, incl. lightning damage
3 years
Olli product code
6000450
You may also be interested in these products