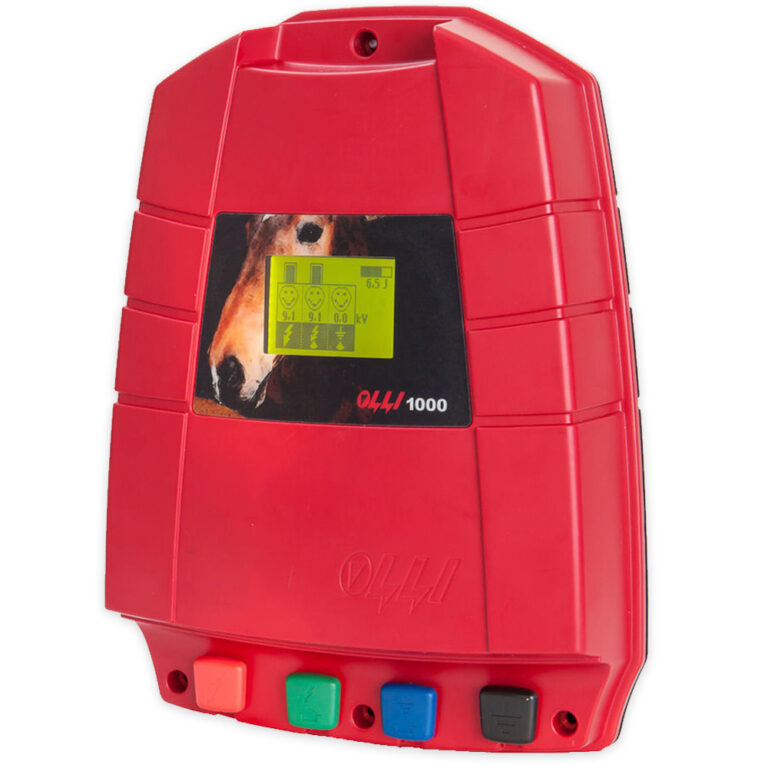 Olli 1000 tells the condition of your fence
Olli 1000 is a comprehensive, powerful energiser with 4.5J output energy. The energiser offers versatile features for fence condition monitoring. The energiser constantly measures the earthing and the fence voltage. In addition, the energiser adjusts the output power depending on the load of the fence and applies 4.5J output energy over a wider load range as compared to traditional energisers.
This energiser model is an excellent choice for fencing horses and all farm animals, as well as for keeping wild animals away.
Olli 1000 – backlit graphic display with versatile measurement functions
The clear and comprehensive, backlit graphic display shows you with Olli emoticons at a glance whether your fence is in good condition – even in the dark. Making use of all the measurement functions is not mandatory, but they provide valuable additional information on fence functionality.
By return voltage measurement, the condition of the fence can be determined and possible damage to the fence discovered. This can be accomplished by building the fence so that it starts from the output terminal, passes around the entire pasture and returns to the return voltage measurement terminal.
Olli 1000 also allows measurement of earthing functionality, if an additional earthing rod is connected to the energiser.
Tip! Inadequate earthing is the most common cause of poor fence efficiency. By correct and adequate installation of earthing from the very beginning, you can avoid a lot of problems related to poor fence efficiency. Read more about functional implementation of earthing >
Peace of mind for years – Olli energiser service
All Olli energisers come with a 3-year warranty that also covers damages caused by lightning. Olli energisers made in Finland are serviced by the service outlet of our plant and by authorised Olli Service Partners throughout Finland. We guarantee availability of spare parts for many years to come, for discontinued models as well.
Mains energisers | Battery energisers | Solar panel energisers
Product information
Voltage at 500 Ohm load
5,100V
Maximum output energy
4.5J
Indicative number of earthing rods
2-5 pcs.
Maximum theoretical fence length
310km
Maximum theoretical fence length (light vegetation)
30km
Maximum theoretical fence length (moderate vegetation)
12km
Built-in lightning protection
Yes
Warranty, incl. lightning damage
3 years
Olli product code
6010000
You may also be interested in these products